Discover Flamenco like you have never seen before
The show embarks on a journey through many different styles of Flamenco, which allows our artists to unleash all of their talents. The unique nature of the venue captures the spirit of traditional Flamenco native to Andalusia.
Every night, two dancers, a singer and a guitarist from our roster of artists, perform popular dances and songs, as well as guitar solos.
Our premises hold a limited number of people, so it is advisable that you book as soon as possible. Should the date you wish be unavailable, contact us by telephone or through our contact form.
All shows last for one hour. No seat reservations. Doors open 30 minutes before the show.
Sanitation protocols and safety measures are in place.
Mandatory use of mask

Thursday: 10.30 to 14.00 h. and 17.30 to 20.00 h.
Friday and Saturday: 10.30 to 14.00 h. and 17.30 to 21.30 h.
SHOWS EVERY FRIDAY & SATURDAY
20 euros general ticket.
15 euros students under 26 years old and Seville residents, with accreditation.
10 euros children (from 6 to 12 years old). Children under 6 are not allowed.
No pets allowed (except trained service animals).
Book now your ticket and feel the magic of Flamenco.
Pure flamenco in the very heart of Seville
La Casa del Flamenco is located in the heart of the Santa Cruz neighbourhood, the former Jewish Quarter, a charmingly delightful maze of winding, cobbled streets just a few feet away from Seville's most recognisable landmark the Giralda.
The main courtyard of a palatial residence dating back to the 15th Century serves as the backdrop for Flamenco performances every evening. Its archways and marble columns, traditional hand-crafted tile work and the scent of flowers create a unique atmosphere for you to enjoy the best Flamenco on show in Seville.
The acoustics of the premises are also unrivalled, with no need for microphones and amplifiers, offering a more natural and genuine sound.
Air-conditioning.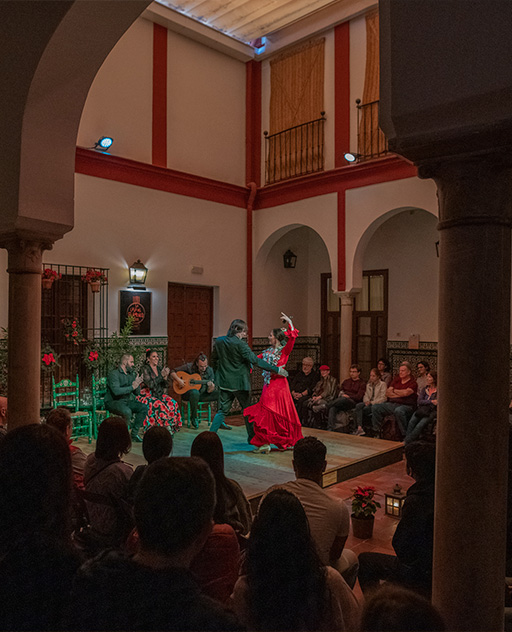 Round off your experience with a sleepover at the venue